Zoning Ordinance Amendment – Formula Retail Ordinance | Moorpark, CA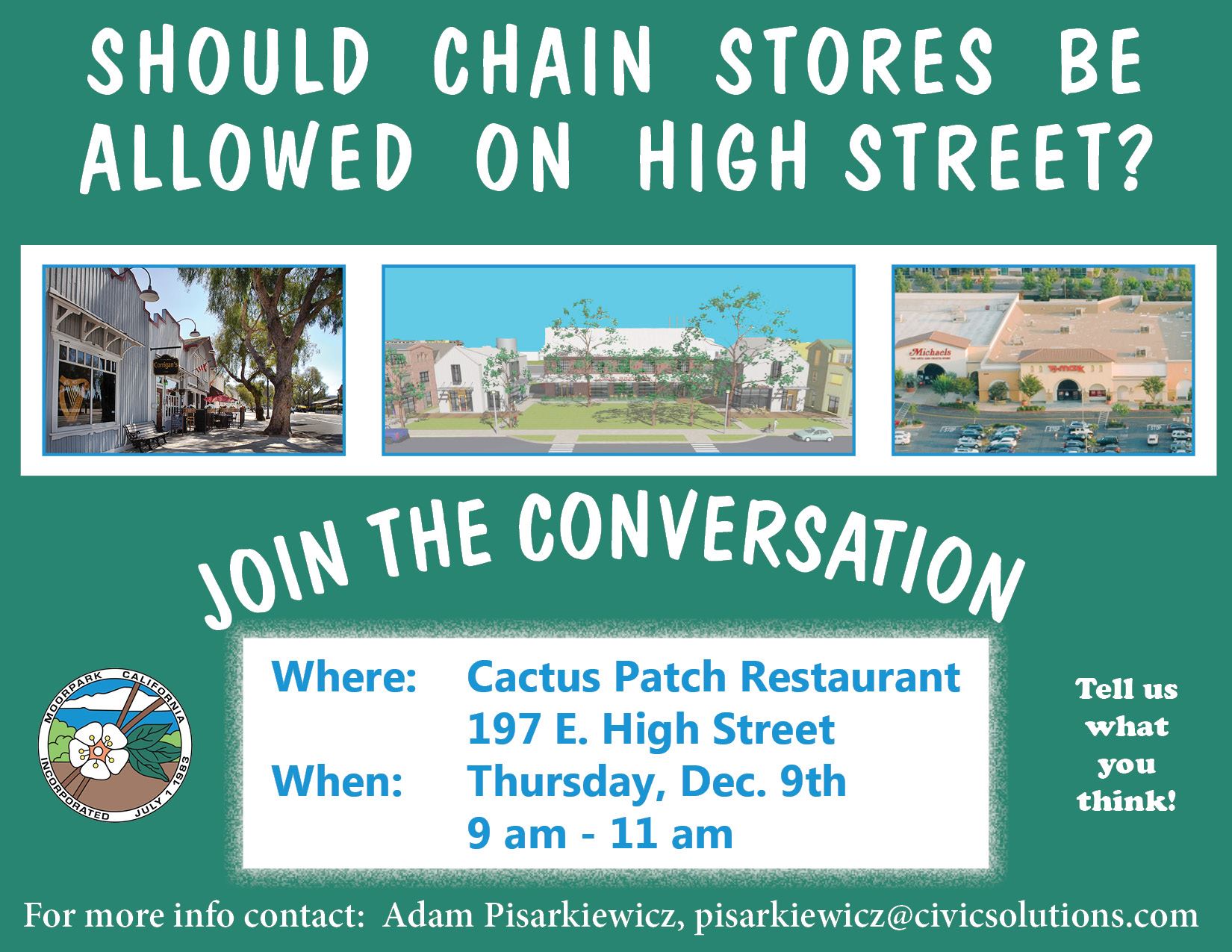 Moratorium 
On September 1, 2021, the City Council adopted Interim Urgency Ordinance No. 492 to impose a temporary, 45-day moratorium on new formula-based retail businesses on High Street. During the moratorium, the City will not issue zoning permits, building permits, land use entitlements and business registrations permits for any of this activity within the City of Moorpark. On October 6, 2021, the City Council adopted an extension to the moratorium to August 31, 2022. The additional time would allow staff to continue thoroughly researching and evaluating zoning and other potential regulations for formula retail businesses along High Street and to prepare a permanent ordinance to codify those regulations. For more information on the moratorium, please click here
Interim Urgency Ordinance No. 492 defines formula-based retail businesses as those that operate five or more existing establishments in the world and also maintain two or more of the following features:
| | | | |
| --- | --- | --- | --- |
| 1. Standardized array of merchandise menu | 3. Standardized décor  | 5. Standardized layout | 7. Uniform apparel |
| 2. Standardized color scheme | 4. Standardized façade  | 6. Standardized signage, servicemark, or trademark | |
Public Outreach
On December 9, 2021, the City hosted an informal, one-on-one discussions with City staff and the City's consultant at the Cactus Patch Restaurant, located at 197 High Street. Roughly 20 residents and business owners attended the event. The City also created a short questionnaire containing four questions to help guide the discussion, provide feedback on critical aspects of the ordinance, and help provide a record of the feedback received. 
While City staff received valuable and helpful feedback from the attendees of the Cactus Patch event, there was a need to reach more residents and business owners to build consensus around the direction of the ordinance. The questionnaire was then turned into an online survey in English and Spanish and posted to the City's website and social media. The survey was available December 13th through the 27th, 2021. In total, 273 people responded to the online survey, including one survey in Spanish, and 12 attendees responded to the survey at the Cactus Patch Outreach Event. In addition, on December 16, 2021, the City received a letter from a business owner sharing concerns about the allowable uses on High Street. For more information on the outreach and view survey results, please click here.
Next Step
The next phase of the Formula Retail Ordinance Project is to begin drafting the permanent ordinance. The first draft will seek to create a process that allows for chain stores under certain circumstances with strict conditions. By creating a specific process for proposed chain stores on High Street, the City will in-effect be prioritizing the development of independent establishments but also allowing for existing businesses and property owners to have the freedom to sell to larger commercial entities.