Sales Tax Information | Moorpark, CA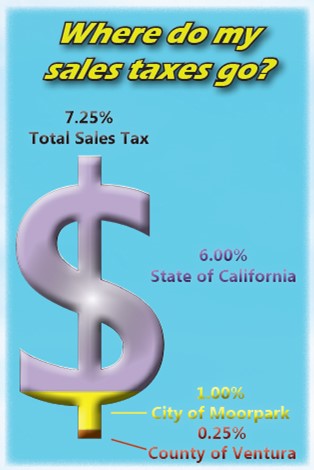 The City reports sales tax figures on a quarterly basis.  These quarterly summaries provide year-over-year comparisons of sales tax receipts for Moorpark, a comparison of how Moorpark's sales tax receipts compare to California as a whole, and the sales taxes collected by different sectors of the economy.  
Sales Tax Quarterly Reports
Where Do My Sales Taxes Go?
Moorpark currently has the lowest possible sales tax rate in California (7.25%).  Of the sales tax you pay in Moorpark businesses, the City receives 1%.  The rest goes to the State of California (6%) and the County of Ventura (0.25%). That means, if you spend $20 in Moorpark and pay $1.45 in sales tax, you receive $0.20 in City services, $1.20 in State services, and $0.05 in County.
Some Notes About Sales Tax Data
Quarterly data is typically available approximately six months after the close of a calendar quarter.  During that time, the data is compiled and audited before the quarterly Sales Tax Newsletter is actually written.
Some sectors are marked as "Confidential" because of the small number of Moorpark businesses in that sector; the City does not want to disclose data for individually-identifiable businesses.  For example, there is only one RV dealership in Moorpark, so disclosing the results of the RV dealership sector would reveal the sales of that one business.