One Moorpark | Moorpark, CA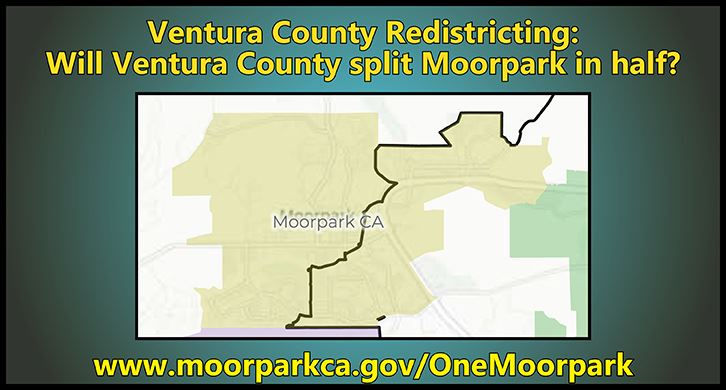 What is being proposed?
Ventura County is governed by the Board of Supervisors, comprised of five individual Supervisors who each represent roughly one fifth of Ventura County's population.  After the U.S. Census publishes updated population data every ten years, the County's district boundaries are redrawn to ensure the populations of each district are rebalanced.  On October 11, Ventura County published four draft district maps for public review and comment, including one that would split Moorpark into two different Supervisor districts – one would extend to Fillmore, Santa Paula, and eastern Oxnard; the other would extend to Simi Valley, Westlake, and Oak Park.  Three other maps keep Moorpark intact to be represented by just one Supervisor.  If the Moorpark community is split to be just a very small part of any one Supervisor's district, then Moorpark's input in countywide policy and legislative issues will be greatly diminished.
Tell Ventura County to Keep One Moorpark
The Board of Supervisors is scheduled to consider the maps at 1:00 PM on Tuesday, October 19, and public participation is critical if we are to keep Moorpark together in one Supervisor's District.  The City encourages Moorpark residents and businesses to tell the Board of Supervisors this one simple message: Keep the City of Moorpark together in one district.  It can be as simple as copying and pasting that sentence in an E-mail to [email protected] , but we encourage you to include:
Moorpark should be entirely located in one district.
Any other input you may have
More Information and Resources
Additional information about Ventura County's redistricting process is available on on the County's website, including:
Shortly after Ventura County initiated its redistricting process, the City of Moorpark sent a September 1 Letter to the County providing two simple comments to the County as it considered redistricting:
Comment 1: Moorpark should be entirely located in one district.
Comment 2: Moorpark should be located in a southeast-County district.
After the County published a draft map that proposed splitting Moorpark across two different County Supervisor districts and connecting Moorpark with northern and western Ventura County, the City of Moorpark sent an October 13 letter to the County reiterating its concerns.  The Board of Supervisors is considering the districting maps at its October 19 meeting.