Neighborhood Enhancement Program | Moorpark, CA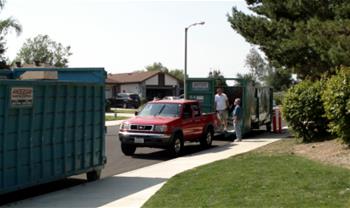 Program Guidelines and Info
The City of Moorpark Neighborhood Enhancement Program offers residents the opportunity to host clean-up events in their own neighborhood! Once per year, neighborhoods are eligible to apply to participate in the free program to receive large roll-off dumpsters for trash and green waste disposal. A minimum of 20 residences must be involved to be considered for event approval so the City encourages residents to work together to make the events successful.  Event coordinators will be responsible for promotion, event bin monitoring, and working with the City.  Due to limited availability, applications will be processed on a first come, first-served basis…so get your applications in early.  This is a great, free way to clean out garages and/or clean up backyards!

Events take place in May or June from 10:00 a.m. to 2:00 p.m., and the City pays the disposal costs as part of the program. Please note:
Contact Us
If you have any questions or require additional information about the Neighborhood Enhancement Program, please contact the Solid Waste Division at (805) 517-6294, or stop by City Hall for program guidelines and an application.