Hitch Ranch Specific Plan | Moorpark, CA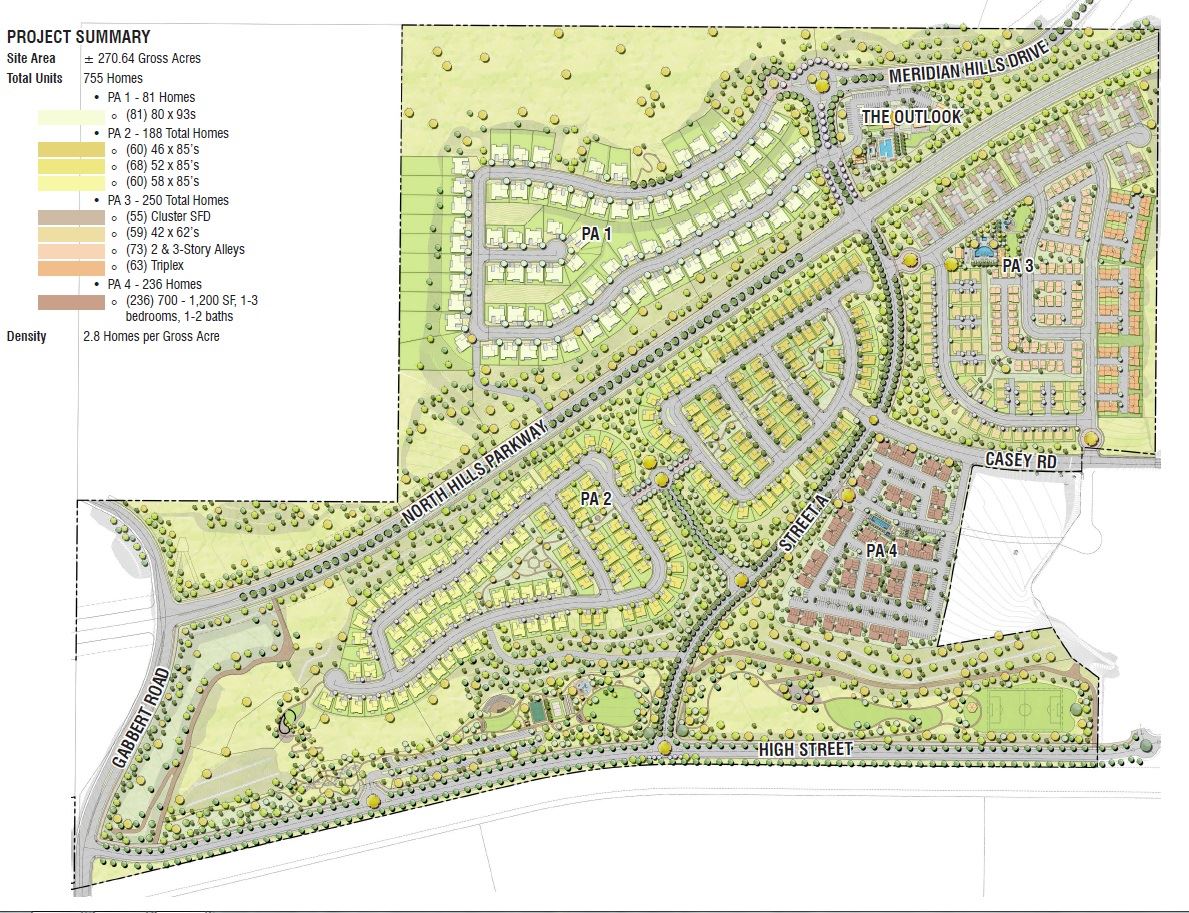 Description
The proposed Specific Plan includes the development of 755 residential units (261 single-family and 494 multi-family), a six-acre public park, associated roadways and infrastructure, as well as expansive open space, detention basins, and manufactured slopes on approximately 277 acres.  Hitch Ranch is generally located north of Poindexter Avenue, west of Casey Road, and extending approximately 1,700 feet to the west of Gabbert Road.
For more information about this project or to be included in future meeting announcements, please contact Douglas Spondello, Planning Manager, at [email protected].
Status
Project Details

755 Residential Units

261 single-family and 494 multi-family

60 acres of natural open space
45 acres of manufactured slopes
30 acres of new roadways
27 acres of detention basins
8 acres of private recreation area
A 6.6-acre parcel dedicated to the City for the future development of affordable housing
14.11 acres of public park space
4.5 miles of multi-use and equestrian trails

Project Site
Environmental Review
Pursuant to the California Environmental Quality Act (CEQA), an Initial Study was prepared and determined that the project could potentially have a significant effect on the environment.  As a result of the analysis contained in the Initial Study, an Environmental Impact Report (EIR) will be prepared.
A public review period of the Initial Study and Notice of Preparation of an EIR (see "Documents" below) has been established between July 10, 2019 and August 8, 2019.  During this time, interested parties can provide comments regarding the preparation, scope, and content of the EIR to Douglas Spondello, Planning Manager via e-mail or mail to:
Douglas Spondello
City of Moorpark
799 Moorpark Avenue
Moorpark, CA 93021
Documents
Previous Meetings
Upcoming Meetings
July 8, 2020:  City Council and Planning Commission Study Session to Review Project and Draft Specific Plan
Contacts
Project Planner
Douglas Spondello
Planning Manager
805-517-6251
[email protected]
Project Applicant
Harriet Rapista
Comstock Homes
310-546-5781, extension 235
[email protected]