Electronic Waste and Paper Shredding | Moorpark, CA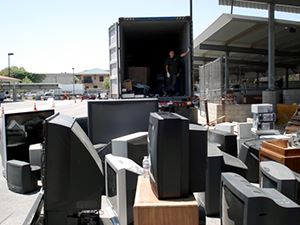 Electronic Waste Collection
Moorpark residents have many free options to properly dispose of electronic waste.  Please visit our How Do I Dispose of… Guide for lists of locations that accept various types of electronic waste year-round.  You may also take electronic waste to the City's Electronic Waste and Paper Shredding events.
Additionally, you may dispose of electronic items by taking them to your waste hauler.
Contact Waste Management at (805) 522-9400 for hours and drop-off location information.
Make-Up Electronic Waste and Paper Shredding Event
The City of Moorpark will be offering its residents an additional Electronic Waste and Paper Shredding event on Saturday, November 14th.  APPOINTMENTS ARE REQUIRED. 
Appointments will be scheduled for fifteen-minute windows between 9 a.m. to 1:30 p.m. We will not be able to serve residents without an appointment. 
Residents can schedule an appointment for e-waste and paper shredding or paper shredding only.  SPACE IS LIMITED; appointments will be filled on a first-come, first-served basis.
To make an appointment please call (805)517-6294 or email [email protected] with the following information:
Preferred appointment time
Name
Address
Phone Number
Moorpark residency will be confirmed before confirming an appointment. Staff will contact you If your preferred appointment time is not available and we can accommodate you at another time. 
Due to COVID-19 restrictions, residents will need to remain in their vehicle and wear a face mask at all times during the waste drop off. Place waste being discarded in the trunk or back seat of your vehicle for adhering social distancing.  
Electronic Waste and Paper Shredding Events
The City hosts free Electronic Waste and Paper Shredding events each year for Moorpark residents on Saturdays in January, May, and September.  The events take place at the Moorpark Public Services Facility (627 Fitch Avenue, map) from 9:00 a.m. to 2:00 p.m.  The 2020 event dates are:
Saturday, January 25, 2020
Saturday, May 16, 2020 – this event is canceled
Saturday, September 19, 2020 *NOTE: Participants will be required to wear face masks and remain inside their vehicles at all times. Before the event, remember to place items you wish to discard in the trunk or back seat of your vehicle  for quick access and safe social distancing.*
The following types of E-Waste are accepted at City events:
Televisions (all types of screens)
Computers
Monitors
Cell Phones (including accessories)
Printers
Radios
VCRs and DVD Players
Tablets
Fax Machines
Video Game Consoles and Controllers
Additionally, the City will accept certain types of universal waste for free, including:
Fluorescent Light Tubes
Compact Fluorescent Light Bulbs (CFLs)
Household Batteries (AA, AAA, C, D, 9V)
The following items are not accepted at the City's E-Waste events:
No Household Hazardous Waste (disposal options)
No Items with Refrigerants (Refrigerators, Wine Fridges, etc.)
No Car Batteries
No Lamp Ballasts
No Smoke Alarms or Carbon Monoxide Detectors
If you need to dispose of other types of waste, please visit our How Do I Dispose of… Guide.

Paper Shredding
Moorpark residents may bring boxes or bags of paper documents for shredding, and we will shred everything on trucks immediately, on-site, usually at no cost!
File Boxes: First 6 boxes free ($4.00 for each additional box)
Grocery Bags: First 12 grocery bags free ($2.00 for each additional bag)