Co-Buying: How Cash-Strapped Millennials Are Becoming Homeowners Without Family Help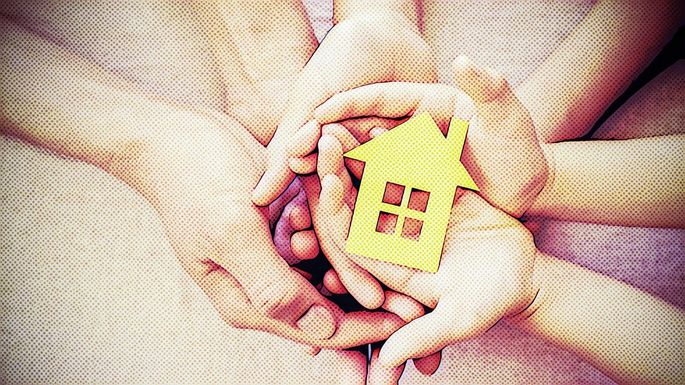 As a single mother of two, Kelsey Perkins was able to buy a five-bedroom house last year in a suburb of Denver, CO—one of the priciest housing markets in the country. She didn't have a high-paying corporate job, a lot of savings or even assistance from her parents to put toward the $470,000 home.
But she did have friends: another single mom and a male musician, both of whom were willing to sign on the dotted line along with her. Today, they live in a house they all own and share, with each person paying just under $900 a month to cover the mortgage. Other expenses, including utilities, are split separately.
"I could have perhaps afforded a one- or two-bedroom condo in the neighborhood or just outside it, but it would have been tight," said Perkins, 34, who works from home as a customer service representative for a sticker company. "What we could do collectively was much more than we could do individually."
Amid fast-rising home prices, living costs, and student debt loads, many millennials and other cash-strapped buyers have found they're not able to buy on their own. But they don't want to rent forever and miss out on gaining equity in property, either.
So, some have found a workaround to the housing affordability crisis: banding together and pooling resources to come up with the down payments and closing costs that make homeownership a reality.
With median home prices hovering above $300,000 nationally, together they can qualify for larger mortgages to cover bigger homes in more desirable areas, while also sharing ongoing expenses such as property taxes and repairs.
About 4% of first-time buyers purchased homes with housemates from July 2018 through June 2019, according to the National Association of Realtors® data. And while that probably doesn't sound like much, it's double the percentage of those same buyers in the previous 12-month period.
"There's a lot of people who are looking at homes today and saying: I can't afford this by myself. I'm [on a] single income. … How can I get into a house?" says Jessica Lautz, vice president of research at NAR. "Finding someone who's renting currently and matches your ideal [co-buyer profile] sounds like a great idea. Why not have a stable home and gain equity at the same time?"
In the sharing economy era, co-buying is likely to expand beyond urban centers, especially with the trend of millennial buyers moving to small towns for affordability, says Lautz.
It's already led to a rise in organizations that help individuals work out multiple-buyer arrangements, and to innovative programs that offer down payment funds to home buyers in exchange for a stake in home equity.
More than three-quarters of Americans believe homeownership is a good financial decision, a 2019 NAR study reports. But about half of non-owners believe it would be difficult based on their current financial situation.
"It really made sense to us that if we were able to find a place that met everyone's needs, we would be able to support each other," says Perkins. "And it would be much more doable from a financial standpoint."