City Council Redistricting | Moorpark, CA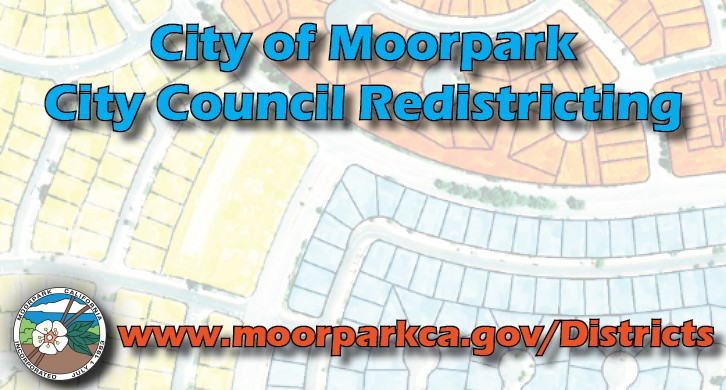 Overview
The City of Moorpark transitioned to district-based elections in 2019 for City Council seats, beginning with the 2020 Municipal Election.  The Mayor will continue to be elected at-large by voters across the entirety of Moorpark even in the district-based election system adopted for the City Council.
Every ten years, following completion of the decennial U.S. Census, the City must go through a "Redistricting" process, to ensure that the City's four City Council districts remain balanced in population.  The U.S. Census Bureau published its 2020 population counts in September 2021, and the City initiated its decennial redistricting process in October 2021.  The redistricting process will establish boundaries to be in place in time for the 2022 Municipal Election, which will include races for Mayor and two of the four City Council seats.
The City has retained National Demographics Corporation, a professional redistricting consultant, to help guide it through the redistricting process.  Through the redistricting process, the community will determine which neighborhoods are grouped together into a district for the purpose of electing City Councilmembers.  Members of the public are invited to share comments, input, and opinions throughout the process, as well as suggest maps for drawing district boundaries at series of public hearings.
Redistricting Timeline
The timeline for the City's redistricting efforts is provided below.  All public hearings will take place at 6:50 p.m. at Moorpark City Hall, Apricot Room, 799 Moorpark Avenue.  All meetings will also be live-streamed and archived at www.moorparkca.gov/CityCouncilMeetings.  Members of the public can participate and provide comments in-person or online via Zoom (links are provided on each individual meeting agenda).
ACTION

DATE

Public Hearing #1

Provide overview of redistricting process
Receive initial public input
Receive direction from the City Council

October 20, 2021

Public Hearing #2

Tentatively

December 1, 2021

Public Hearing #3

Tentatively

January 5, 2022

Public Hearing #4

Adoption of Final District Maps

Tentatively
February 2, 2022
Deadline for completion of redistricting process
April 17, 2022
Timeline of Events
Redistricting Resources
For more information about the redistricting process, please visit the following: