California Real Estate Markets Make a Comeback in January, but Affordability Is Still Key Nationwide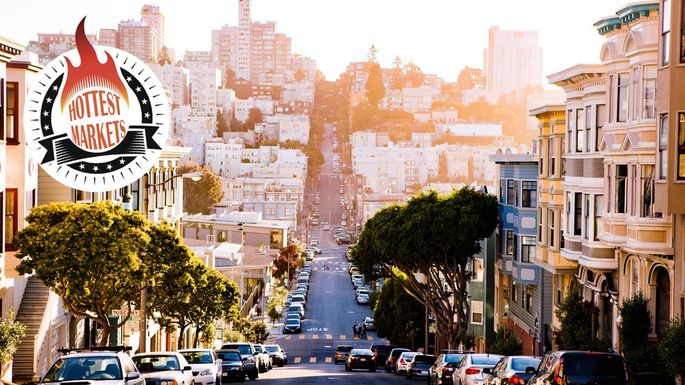 As we look back on the first month of 2020, it seems that the new year has indeed brought changes to the real estate market. An analysis of realtor.com® data for January shows that California markets are again buzzing with real estate activity, even as affordability continues to be a driving factor across the country.
California markets made up 10 of the top 20 metros in realtor.com's monthly list of the hottest real estate markets in America. The ranking is based on the number of listings viewed per market, and the number of days that a home takes to sell. In other words, it reflects the eagerness of buyers in searching for and snapping up homes.
Although California markets dominated the list for years, they started to drop in the rankings more recently as prices continued to rise and many would-be buyers started to look to less expensive areas. So January's top 20 is a reversal of this recent trend of California markets cooling off, notes realtor.com Chief Economist Danielle Hale.
"With mortgage rates down, they're starting to heat up again, which is a testament to the fact that California is a really desirable place to live, but it's become really unaffordable," she says.
"When [California homes] become slightly more affordable because mortgage rates drop, we see buyers turn back to them again, to try to make the math work out," she adds.
That's surely what boosted ultrapricey San Francisco, where the median home price is $907,550, back to the No. 2 spot. But the biggest comeback in the top 20 is the San Jose metro area (median home price: $1,099,550), which includes the Silicon Valley cities of Santa Clara and Sunnyvale. It rose from No. 35 in January 2019 to No. 5.
That's in part because tech behemoth Google recently unveiled plans for a sprawling new campus in downtown San Jose, bringing new interest in the area, says Alicia Sandoval, a Realtor® with Keller Williams based in Palo Alto who works with clients up and down Silicon Valley.
And while there was a lot of uncertainty in the last quarter of 2019, and market activity slowed down, Sandoval says she's already seen a bounce in 2020.
"People are back from their holidays, and also the interest rates are low, so they say, 'OK, we'd better get into something because in six months we'll be paying more,'" she says.
"Anything under $1.5 million, you're getting a lot of multiple offers again," she adds. (For a lot of buyers, $1.5 million is a starter home. Yes, that's Silicon Valley for you, folks!)
But the San Francisco Bay Area is a bit of an anomaly. At the top of our ranking, for the seventh month in a row, sits humble yet bustling Fort Wayne, IN. That's because at the end of the day, as Hale says, "affordable markets are still where things are."
That's evident with the rest of the top 20, which mostly consists of midsize metros in the West and Midwest. Even Colorado Springs, CO (No. 10), with a median home price of $473,994, can be seen as a more affordable alternative to Denver, where the median home price is $532,500.
Check out the rest of the metros where real estate activity is hopping, below—but if you're thinking of buying, you might not want to wait.
"If you're in the market for buying a home now, I wouldn't hold off because you think [home prices] are going to get better; mortgage rates are pretty low right now," Hale says.