Active Adult Center | Moorpark, CA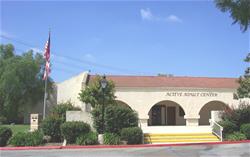 Due to the growing concerns about the COVID-19 Virus, the Active Adult Center will be closed until further notice.
During this time the facility will be closed, and no classes or activities will be held. Seniors over the age of 60 in need of a daily meal should contact the Active Adult Center at (805) 517-6261 for home delivery options.
City staff is in continuous contact with Ventura County Public Health Officials and updates will be provided on the city website at moorparkca.gov/coronavirus.
For more information concerning the Active Adult Center please call (805) 517-6261.
The Parks, Recreation & Community Services Department is responsible for administering and coordinating the city´s Active Adult Center, which provides ongoing programs and services, as well as special activities, for individuals 55 years of age or older. The Active Adult Center is managed by one full-time Senior Center Supervisor.
Staff & Activities
The Active Adult Center has two full-time staff members, a part-time kitchen aide, and a large number of volunteers to provide and/or coordinate ongoing services and activities, including:
Information and referral services
Dance and exercise classes
Special interest classes (photography, arts, and crafts)
Education classes
Monthly birthday luncheons
Movie/video screenings
Bingo and drop-in bridge
Newsletter
The center publishes a monthly newsletter featuring a calendar of events and activities. 
The Moorpark Active Adult Center is one of several county-wide meal sites offered through the Ventura County Area Agency on Aging. The Senior Nutrition Program provides nutritionally balanced meals in a congregate setting, as well as home-delivered meals, to seniors age 60+. To encourage the stay safe at home order, Home delivered meals (HDM) are available to all people, age 60 and older, and reside within Moorpark city limits. A combination of hot, frozen, and fresh meals are delivered by staff. To receive an application for Home Delivered Meals service, please contact the Active Adult Center Senior Nutrition Coordinator at 805-517-6262. The senior Nutrition Coordinator will contact the applicant to discuss program details and eligibility requirements.
The city receives a grant from the Ventura County Area Agency on Aging to provide this program. In previous years, this program was operated by the County of Ventura.
Guitar Instructor
The Active Adult Center is looking for a volunteer to teach a beginning guitar class on Friday mornings.  Please call 805-517-6261.
Guitar:
Days: Fridays
Time: approximately 10 a.m. – 11:30 a.m.
Please print out the application and mail the completed form to:
Active Adult Center
City of Moorpark
799 Moorpark Avenue
Moorpark CA 93021